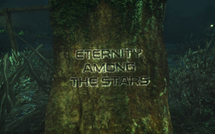 Eternity Among The Stars is a phrase originating from the ARK-project, coined by it's creator Dr. Catherine Chun with the ARK Attitude Survey. It became a mantra among personnel at Theta, to the extent of variants of the phrase being heard as well. It is also similar thematically to the PATHOS-II motto, "Your Expressway to the Stars", which is likely intentional.
In SOMA, the first instance of the phrase or it's variants encountered is on the graves outside of Theta, and is mentioned from that point forward.
Appearances
Edit
Catherine created the phrase when she developed the ARK Attitude Survey with the second question being focused around the idea of launching the ARK into space to let it survive for thousands of years, aptly titled "Eternity among the stars".
In Mark Sarang's recording where he conceptualizes the concept of "continuity", the final thing he says is "Let your body die and continue on in the digital paradise among the stars.", signifying when the phrase started circulating amongst those at Theta.
Those who committed suicide believing in "continuity" can be found buried outside of Theta in large cargo containers immersed in the ocean floor, marked by salvaged scrap metal with "Eternity Among The Stars" etched onto them.
During the argument started by Ian Pedersen at Phi, the first thing heard is Sarah Lindwall saying "Are you suggesting we keep it down here? Doesn't that defeat the whole purpose? Eternity among the stars, remember?"
If Simon Jarrett stays with Sarah Lindwall for her final moments, the last thing she will say is "Don't let them die, okay? Send them out there. To the stars."
When Simon realizes he's still on PATHOS-II, he incredulously asks Catherine about what happened thinking something had gone wrong, unbeknownst of their copies on the ARK. She responds "Nothing. They're out there, among the stars. We're here." Additionally, if Simon idles on pressing the launch button, he will comment "Deep breaths, Catherine. Soon we'll be among the stars."