There is only September 22 2015 04:00:00 left until SOMA's releas.
Welcome to the Wiki
SOMA is an upcoming horror game being developed by Frictional Games in the H.P. Lovecraft Engine 3, it's been in development since 2010, it will be released on September 22, 2015 for PC and PS4. The game is set in an unknown year in an era where machines are developing human traits, meanwhile isolation and decay bears down on the staff of the remote research facility and most of the staff start going missing while some staff get trapped, surrounded by machines looking for them, including you.
REQUIRED READING - READ THESE BEFORE TRAVERSING FARTHER INTO THE WIKI
Main Rules | Chat Rules | Operators | Offenders
This wiki holds 2,904 pages.
Items
Trailers
Featured article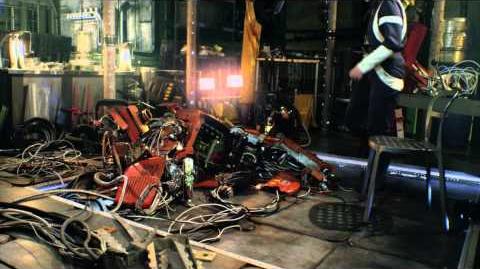 Item #4017 - "Mockingbird" A standard UH3 articulated robot, active fluid memory with an approximated intelligence [DATA CORRUPTED] shows a much more active mind [DATA CORRUPTED] spontaneously developed a desire to socialize from observing human interaction? [DATA CORRUPTED] intelligence first noted by Security Off.... (More...)
Links
Helping Out
Every wiki has two list of articles that need help called "Stubs" and "Wanted Articles". These could really be cleaned up and will be appreciated.
There's also a third list of articles called Unfinished Pages
Uploading images is another really easy way to help out - see the Special:Upload page.
You can find a list of useful templates on Category:Templates, some of which are documented on the 'templates project page'.
Fixing spelling and grammatical errors as well as missing and misplaced words/letters.
Chat
Make sure to read the Chat Rules before entering the chat.