Welcome to the Wiki
SOMA is a horror game developed by Frictional Games in the HPL Engine 3. It's been in development since 2010, and was released on September 22, 2015 for PC and PS4. The game is set in the future, in an era when machines are developing human traits. Meanwhile, isolation and decay bear down on the staff of the remote research facility.
REQUIRED READING - READ THESE BEFORE TRAVERSING FARTHER INTO THE WIKI
Main Rules | Manual of Style | Style Guide
This wiki holds 3,164 pages.
Trailers
Featured article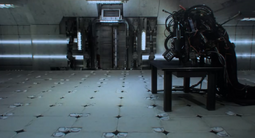 Items is the name given to a series of anomalous events and discoveries within PATHOS-II. These range from objects or entities to strange occurrences which have not been explained. They are catalogued in the form of text documentations and on occasion video logs. These documents are found on SOMA's official website, although the text itself is mostly corrupted, leaving out major chunks of information... Read More