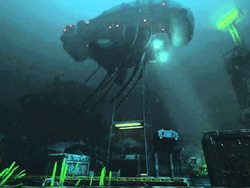 Zeppelins are automated cargo transports, used to quickly ferry personnel and heavy equipment over the expanses of the plateau on which PATHOS-II was built. In SOMA, they are referenced on numerous occasions, and Simon is required to ride one to reach Theta.
Appearances
In SOMA
In Delta, if Simon attempts to call Zeppelin 216, he will make contact with the brain-scan of Alan Waldeck, an engineer stationed at Omicron, who panics about being surrounded by water and drowning, before the Zeppelin malfunctions and ceases to respond.
Gallery
Community content is available under
CC-BY-SA
unless otherwise noted.